Rent Uplighting

|

Rent Gobos

| Rent Starry Night

|

Rent Chair Covers

|

Customer Reviews/Photos | FAQ

---

---
RENT UPLIGHTING IN COLORADO

Transform your venue by renting uplighting!

Rent uplighting in CO for an easy and affordable way to transform your wedding reception venue! Use uplighting to wow your guests with an ultra modern look, or set the mood for a romantic ambiance.

Quick & Easy Set Up:
Uplighting set up is quick and easy in just 30 seconds per light!
1. Plug into outlet
2. Press button to choose color
3. Put uplight on floor and point towards wall
You're done! Uplights can be linked together with the power cords provided, so you need just one outlet.

Colorado Uplighting Rentals:
We rent uplighting in CO, and have worked with couples and clients in Denver, Aurora, and Fort Collins.





LEARN MORE ABOUT UPLIGHTING

Quick Reference Links:
Below are videos and quick reference guides for everything you need to know about do-it-yourself uplighting and renting uplights with Rent My Wedding.

Policies:
Rent uplighting now, pay later! A 25% deposit reserves uplights for your date. See How It Works for complete details. No hidden costs. Our $19/uplight price includes free shipping both ways, & everything you need for uplighting in any color.




Specifications:
We rent professional-grade Chauvet SlimPar56 LED uplights. Unlike other types of par can uplighting, LED uplights are energy efficient & do not get hot or blow fuses. About 75 uplights is equivalent to the power used by a typical blow dryer! Uplights are 3" thick and 6" in diameter.

Color:
Uplighting can be set to any shade of any color in a matter of seconds using a button on the uplight. You can preset the colors in advance to save time; or we can also preset the colors for you before shipping.

When To Order:
We recommend ordering at least 90 days prior to your wedding to ensure availability. However, we can typically accommodate orders placed as little as 1 week ahead if needed.

HOW MANY UPLIGHTS TO USE?

The number of uplights depends on your vision for the reception and size of your venue. We have provided uplighting for hundreds of weddings, and couples have used as few as 2 uplights and as many as 70 uplights. Here are some guidelines:

Seating
Capacity

Targeted
Accent Lighting

Moderate
Coverage

Maximum
Coverage

50 people

4 – 8 uplights

11 uplights

18 uplights

100 – 130 people

4 – 8 uplights

16 uplights

30 uplights

130 – 200 people

4 – 8 uplights

20 uplights

35 uplights

200 – 250 people

4 – 8 uplights

24 uplights

42 uplights

250 – 350 people

4 – 8 uplights

26 uplights

48 uplights

350+ people

4 – 8 uplights

30+ uplights

50+ uplights

TARGETED ACCENT LIGHTING: This look is for couples who want to add interest with lighting without breaking the bank.  Choose certain areas of your venue to highlight, such as your head table (2 - 6 uplights), or cake table (1 - 2 uplights).

MODERATE COVERAGE: This is the option for those who want to set the mood and create an elegant ambiance with uplighting.  Adds a nice overall effect to your venue with moderate coverage. Space lights 10' apart around perimeter.

MAXIMUM COVERAGE: For the "wow" effect, choose maximum coverage.  Lighting professionals refer to this as a "color wash."  Basically, every inch of wall will be covered in colored lighting.  This is the icing on the cake for a venue that is already beautiful.  Or, use a color wash to transform a drab venue into a modern, chic space. Space lights 5' apart around perimeter.

| | | |
| --- | --- | --- |
| Maximum Coverage | Moderate Coverage | Targeted Accent Light |


BEFORE & AFTER: Color wash uplighting transforms a gymnasium into a fabulous reception space!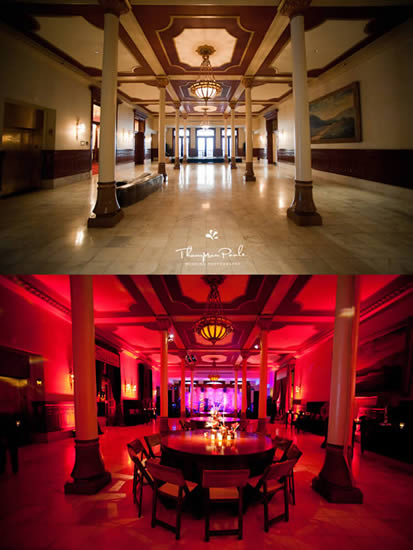 Bar / Bat Mitzvah Rentals | Birthday Party Rentals | Charity Event Rentals | Corporate Event Rentals | Fashion Show Rentals
Gala Rentals | Graduation Rentals | Homecoming Rentals | Party Rentals | Prom Rentals | Sorority Formal Rentals |
Special Event Rentals | Tradeshow Rentals | Wedding Rentals | Quineanero Rentals
Contact | Check Availability | Order Online | Event Rentals | About Us | Privacy Policy
Privacy Policy | ©2012 RENT MY WEDDING™. All Rights Reserved