BLACK LIGHTS
Rent Black Lights for $99 + Free Shipping!

Black Lights set the mood for a fun party! Anything white, neon, or reflective will glow under black lights. Perfect for glow parties, white parties, homecoming, prom, and any party with a dance floor! Setup is easy - just plug in the light, set on a table, and point at the area you want to glow! Our high-output black lights cover a 60 foot by 60 foot area. Most parties just require 1 or 2 black lights to light up the entire room. Click HERE to estimate quantity, or HERE to rent black lights.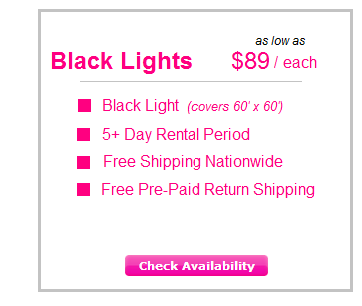 Black Lights Setup

Plug it in.


Set on table.


Point at area you want to glow.
Black Lights Rental Process:

FREE shipping both ways


Delivery 2 days before event


Return 2 days after event
100% Satisfaction Guarantee

Guaranteed in perfect working order


24/7 helpline


Rated #1 with 2,782 reviews!


HOW MANY BLACK LIGHTS TO RENT?
Not sure how many black lights you need? Each black light covers an area of 60 feet by 60 feet (3600 square feet). Most clients use 1-2 black lights. Check out the black light quick estimator below, OR get a customized quote using our black lights calculator.
Average Size Party: 1 Black Light
1/2 of High School Gym: 2 Black Lights

Entire High Shool Gym: 4 Black Lights

LEARN MORE ABOUT BLACKLIGHTS
PRICE: As low as $89 per black light
Rent one black light for $99. For two or more black lights, the price is $89/each. Prices include everything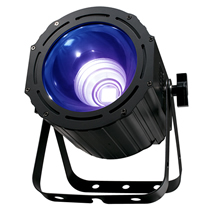 you need plus free shipping both ways.
RENTAL PROCESS 
Just click HERE to check availabiltiy, and then complete your order online or by phone. Black Lights will be delivered at least two days prior to your event.

FREQUENTLY ASKED QUESTIONS -- BLACKLIGHTS
What Are Black Lights?
Black Lights are also called UV lights or ultra violet lights. When you turn on the black light, you will see a purplish glow. What you cannot see is the ultraviolet light that the bulb is also producing. The ultraviolet light has the effect of making anything white or florescent glow.
Where Can Black Lights Be Used?
Black Lights can be used virtually anywhere. For best results, use the black lights in a dark room . The darker the room, the more dramatic the effect.
Technical Specifications: 
Our black lights are high powered and use the latest technology. Each black light has a 100 watt COB LED True UV light bulb. Our black lights are at least 3 times more powerful than the typical black light. This means that you can rent fewer lights to get an amazing effect
Brand Name:
We rent the highest quality professional black lights from American DJ: the ADJ UV Cob Cannon .
Safety:
Our black lights use the latest LED technology, which means they will stay cool all night. Unlike the older style of black lights, this new technology means that you don't have to worry about fire hazards or blowing fuses.
How Many Black Lights Do I Need?
Most of our clients use 1 or 2 black lights. Each black light will cover an area of about 60 feet by 60 feet. If using black lights in a gym, you will need 2 black lights to cover half the gym, or 4 black lights to cover the entire gym.
Where Do I Put The Black Lights?
We recommend placing the black light on a cocktail table in a corner of the room. It has an adjustable stand so that you can aim and point it anywhere you want to glow. Y ou can also mount the black lights on a Lighting Stand if you want them to shine down.
How Big Are The Black Lights?
The black light weighs 11 pounds, and it measures 12.75" x 11" x 8." The blacklight has an adjustable stand so that you can angle and point the light as needed. Each black light covers an area of about 60 feet x 60 feet.
What Will Glow?
Just about anything white or flourescent will glow under black lights. This includes white clothing, white linens, highlighter markers, fluorescent or neon party paint, and more!
Special Programming:
The black lights can be programmed for special lighting effects, including pulse and strobe. For lighting professionals interested in creating a lighting show, the black lights can be controlled by DMX.

BLACKLIGHTS RENTAL POLICIES
Shipping:
Enjoy FREE shipping both ways on all rentals within continental U.S. Delivery is guaranteed at least  two days before your event date. We guarantee packages will arrive on-time, with all rentals in perfect condition.
Returns:
Return rentals to any FedEx location two days after event date. Use same box and pre-paid FedEx label provided for return. No late fees as long as you call to make arrangements if you are unable to return your items on time.
Payment:
Flexible payment options - pay 25% now and balance later. No hidden costs or fine print - all rental prices include everything you need. No security deposit. No late fees as long as you call to make arrangements if you are unable to return your items on time .
Cancellations:
Cancel anytime before you package ships for a full refund. Full refund will be issued within 1 business day of cancellation .
When To Order:
We recommend reserving your black lights about 30 - 60 days prior to your event date to ensure availability. We will automatically schedule your package for delivery at least two days prir to your event date. Many clients book further out so that there is one less thing to worry about later. However, we can also typically accommodate rush orders as well - just give us a call and we would be happy to help.