PIPE AND DRAPE
Pipe and drape is a beautiful way to decorate any room! Rent a complete pipe and drape kit for just $119.

How does it work? Order online, and we deliver the pipe and drape kit to you.
Setup? Easy! Simply setup tripods, attach bars, & add drapes. Raise tripods to desired height. You're done!
The best part? Shipping is FREE both ways nationwide!
That's not all... We offer flexible payment options and extensive guarantees to ensure every rental is perfect!




HOW TO CALCULATE QUANTITY OF DRAPING?
Here's the secret: All you need to do is measure the width of the walls that you want to cover with draping. (Or ask your venue for a floorplan). Then click the RENT NOW button, and choose the size of draping that you need on the drop-down menu.
Want a quick estimate? Check out the pipe & drape cheat sheet below, or click HERE and we'll send you a customized quote for your venue!
PIPE & DRAPE COMMON SIZES:
Simple Backdrop:
12 Feet Wide
Entire Room (100 Guests):
168 Feet Wide

Head Table for 2-6 People:
12 Feet Wide

Head Table for 7-12 People:
24 Feet Wide
Head Table for 13-19 People:
36 Feet Wide



EXAMPLE PHOTOS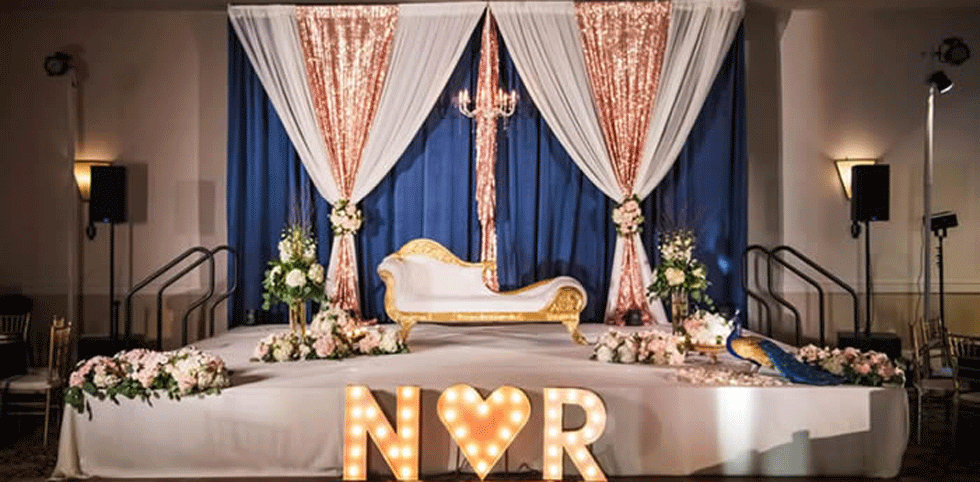 Navy blue pipe and drape with white and rose gold swag for stage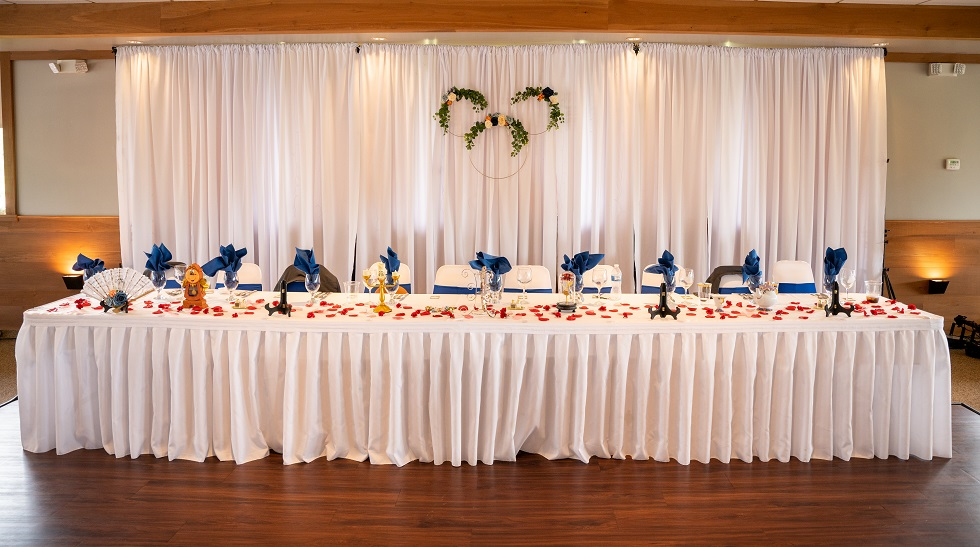 Plain white pipe and drape for party backdrop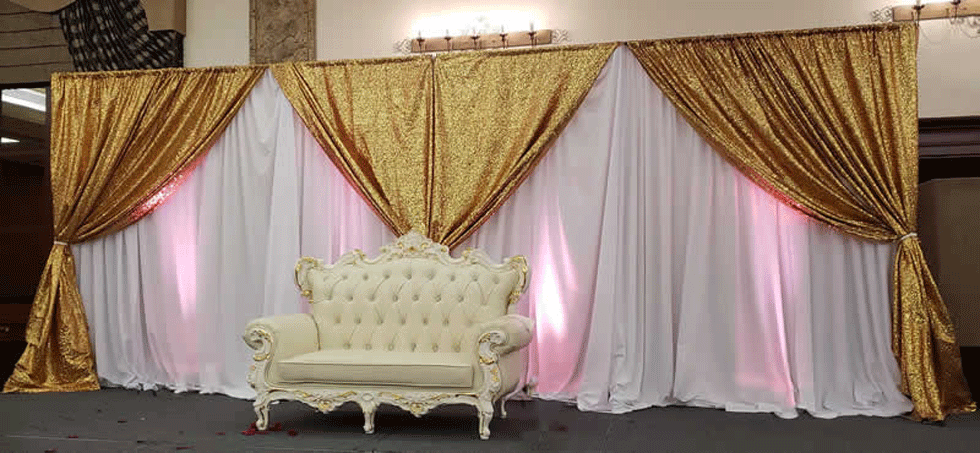 White pipe and drape with gold accent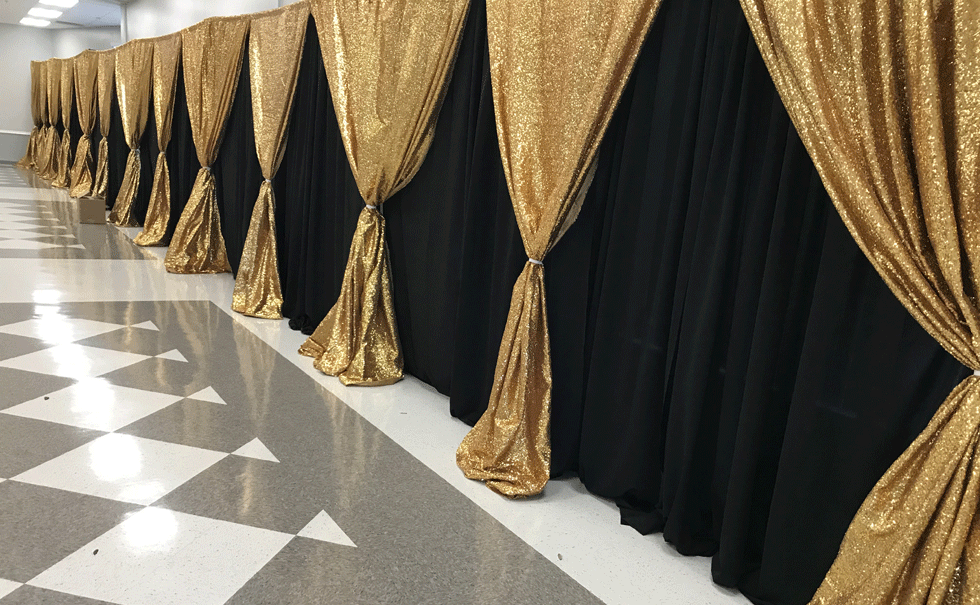 Black pipe and drape with gold swag



REVIEWS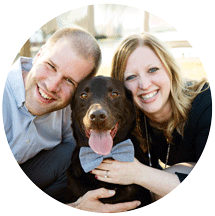 ★★★★★ 5.0 out of 5.0
The pipe and drape really transforms a room! We used it in a garage to create an elegant setup for our rehearsal dinner. Everyone loved it!
Read 3,064 more reviews on WeddingWire


COMPLETE GUIDE TO PIPE AND DRAPE
This is the complete guide to pipe and drape! Featuring tips and tricks about draping, technical details, how-to videos, inspiration photos, quantity calculators, pipe and drape advice, and budget-saving ideas, this guide has all the answers. Read on to learn everything you need to know about pipe and drape!

WHAT IS PIPE AND DRAPE? Pipe and drape is a system of vertical and horizontal poles that create a freestanding framework to hold fabric drapes. The pipe and drape is used to temporarily decorate a space. Common uses for pipe and drape include backdrops for wedding head tables or registration desks, as well as to cover the walls of an entire venue.
HOW MUCH DOES PIPE AND DRAPE COST?
Pipe and drape rentals start at $119 for the 8 foot tall by 12 foot wide kit. Many sizes are available! All prices include FREE shipping both ways. There are no other fees, and no order minimums.
WHAT COLORS ARE AVAILABLE FOR PIPE AND DRAPE?
We rent pipe and drape fabric in many different colors, including solid fabrics and shimmering sequins! Click HERE to view the color chart.

WHAT SIZE IS AVAILABLE FOR PIPE AND DRAPE?
Our pipe and drape is available in heights of 8 feet tall or 10 feet tall. Choose any width! We rent pipe and drape in increments of 12 feet wide. The system is adjustable, so you can always adjust down to the exact width that you need. For example, if you need a 20 foot wide pipe and drape kit, you should rent our 24 foot wide kit. During setup, you can adjust the kit so that it is exactly 20 feet wide.
WHAT IS A VALANCE OR SWAG?
A standard pipe and drape kit has one layer of drapes that hang vertically on the backdrop frame. A swag or valance is a second layer of drapes that hangs parrallel to the main drapes. This second layer of drapes can be styled, such as swooshing the drapes to the sides, wrapping them along the top, or making criss-cross patterns to add interest to the backdrop.
HOW TO SETUP PIPE AND DRAPE:
It's super easy to setup pipe and drape - no experience required! It takes about 10 minutes for every 12 foot section.

1. Setup 2 tripods
2. Attach a crossbar
3. Add drapes
4. Raise tripods to desired height

You're done! That's all it takes to setup DIY pipe and drape!
HOW TO RENT PIPE AND DRAPE:
Wondering how to rent pipe and drape? It's easy! Just place your order online, and we deliver the pipe and drape to your door. Afterwards, put everything back in the same box and send back. Shipping is FREE both ways nationwide. Click HERE to learn more about how it works to rent pipe and drape.
WHAT TYPE OF DRAPES ARE USED?
We use professional grade poly premier drapes. These drapes are wrinkle-free, which means no ironing or steaming required! They are ready to use right out of the box. This is a thicker material and is not see-through.
WHAT'S INCLUDED IN THE KIT?
Our pipe and drape kit comes with everything you need! This includes the frame, drapes, 5-day rental, and free shipping.
HOW-TO VIDEOS:
Check out our tutorial videos to learn how to setup the pipe and drape backdrop yourself! You won't believe how quick and easy this is for anyone to do!
· VIDEO:  Pipe and Drape Setup
· VIDEO:  How To Connect Multiple Backdrops
· VIDEO:  How To Style Backdrops
WHAT ARE THE EXPERTS SAYING ABOUT PIPE & DRAPE?
According to Bridechilla, pipe & drape is an effective way to transform any room. Check out the podcast HERE. Looking for ideas to get creative with draping? Check out the 10 most creative wedding accent walls HERE!
PIPE AND DRAPE INSPIRATION PHOTOS:
Looking for pipe and drape inspiration photos and ideas? Check out these resources to get inspired!
· Our Gallery: Photos submitted from clients using Rent My Wedding draping for their wedding or event ➜
· Our Magazine: Check out our nationwide wedding magazine for draping photos and more advice ➜
· Pinterest: Our Pinterest page features thousands of photos organized in albums to help you find your favorite draping style. ➜
· Instagram: Our Instagram page features our favorite wedding inspiration submitted from our clients and event professionals ➜

PIPE AND DRAPE QUANTITY CALCULATOR:
Wondering how much pipe and drape you need for your event? Just measure the width of each area that you want to cover, or click HERE to get a customized quote! Do you have a floor plan for your venue? Email it to us and we'll mark up your floor plan to show you exactly where to place the pipe and drape! You can also speak to a draping expert by phone at 1-800-465-8020.
PIPE AND DRAPE ADVICE:
It may seem like a daunting task to plan and setup pipe and drape for an event. But guess what? We're here to make it easy! We can help you come up with a draping design, estimate the quantity of pipe and drape needed, and more! Our pipe and drape experts are ready to help you plan an amazing event! Call us at 1-800-465-8020.
BUDGET TIPS FOR PIPE AND DRAPE:
Looking for ways to save money on pipe and drape? Do-it-yourself pipe and drape is a great way to save on budget! Even just one section of draping will add a beautiful touch to any venue. Our clients are always telling us that pipe and drape rentals were so much easier to setup than they ever imagined!
FAQ FOR RENTING PIPE & DRAPE ONLINE:
Want to learn more about renting pipe & drape online? Click HERE to check out our FAQ page with all the details!
COMMON QUESTIONS ABOUT PIPE AND DRAPE:
We've worked with thousands of clients across the United States for nearly a decade. Read below for some of the most common questions about pipe and drape..

· Do I need a professional for pipe and drape installation? No, you don't need a professional to install your pipe and drape. Our pipe & drape kit is portable, and it is designed for easy DIY setup. No experience required!
· Why is pipe and drape so expensive everywhere else? Traditionally, pipe and drape was done using very heavy poles and bases. These poles were not adjustable, so it was necessary to use ladders or lift equipment to install the pipe and drape. Thanks to new technology, we've developed a portable, telescoping kit. This means that you don't need any ladders or special equipment to setup the pipe and drape. All you need is two hands and 10 minutes! Our do-it-yourself system allows you to save money from hiring a full-service team with equipment.
· This seems too good to be true: We hear this a lot! Many clients have never used any type of pipe and drape before, and they are concerned about whether they can really set it up on their own. The good news is that we guarantee that ANYONE can setup our pipe and drape - no experience required! And don't just take our word for it. Check out our REVIEWS and watch our how-to VIDEOS! You'll see just how easy it is to setup your own pipe and drape. And, we also have a 24/7 helpline so we're always just a phone call away in case any questions do come up during your setup.

· How to get cheap pipe and drape: If you're searching for "cheap pipe and drape" or "show me draping vendors," then you're in the right place! RENT MY WEDDING helps you get the look for less with cheap pipe and drape rentals. The rental cost starts at $119 + free shipping both ways.

· Find local pipe and drape: Wondering where to get pipe and drape locally? We deliver everything directly to your door! Look no further if you're wondering "where to get pipe and drape backdrops near me" -- our online rental process makes uplighting easy and convenient!

We hope you enjoyed reading our Complete Guide to Pipe and Drape! If you have any other questions about pipe and drape backdrops, contact us at 1-800-465-8020. Otherwise, if you are ready to get started, click the button below to rent draping!