RENT UPLIGHTING
Just $19 + Free Shipping

Rent uplighting to transform any room and add ambiance. Setup is quick and easy - just place the lights on the floor, up against the walls. How to rent uplighting? Order online, and we'll deliver everything to your door. Delivery is guaranteed at least 2 days before your event. Afterwards, put everything back in the same box and return with a prepaid label. Rental includes FREE SHIPPING both ways and 5 day rental. Click HERE to rent uplighting.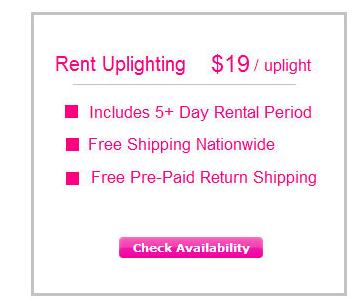 How to Setup:

Plug in light


Pick any color


Set on floor, up against wall
Rental Process:

FREE shipping both ways


Delivery 2 days before event


Return 2 days after event

Satisfaction Guaranteed:

Guaranteed in perfect working order


24/7 helpline


Rated #1 with 2,700 reviews!
HOW MANY UPLIGHTS TO RENT?
You might be wondering, how many uplights do I need? We recommend placing lights 10 feet apart around the entire room for a beautiful look. Check out the uplighting quick reference guide below, OR get a customized quote using our uplighting calculator.
Up to 75 Guests: 10 Uplights
76 - 150 Guests: 16 Uplights
151 - 225 Guests: 24 Uplights
226 - 300 Guests: 32 Uplights
300+ Guests: 40+ Uplights

UPLIGHTING EXAMPLE PHOTOS
What does uplighting look like for a wedding or event? Check out the photos below submitted by Rent My Wedding clients who have used our rent uplighting - DIY uplights.


Here's a before and after submitted by our DIY client in Dallas, Texas for a winter wonderland wedding.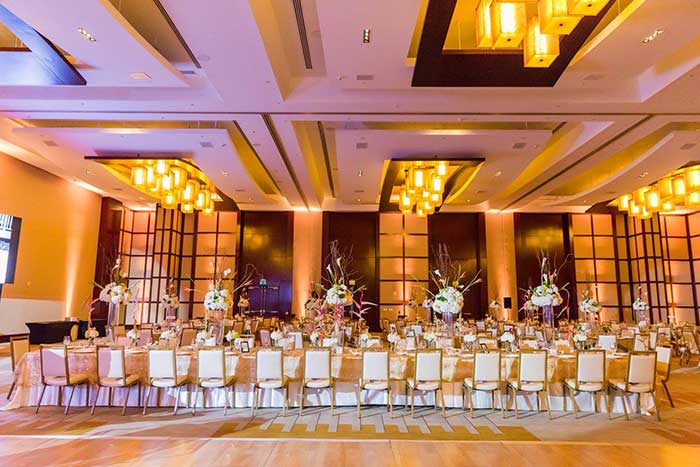 Amber uplighting creates an elegant mood in Miami. This also shows uplighting on a dark color wall.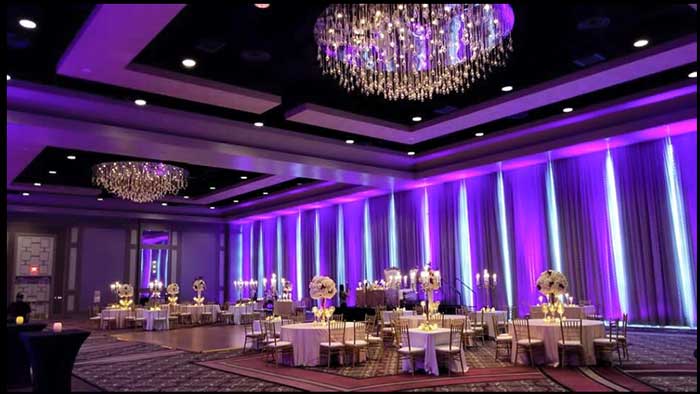 Here's an example of renting uplighting for drapery from our client in Washington, D.C.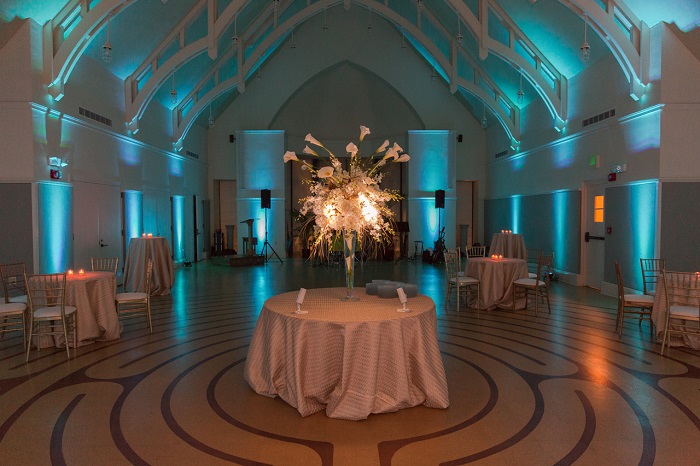 A school district in Illinois transformed the cafeteria with vibrant teal uplighting!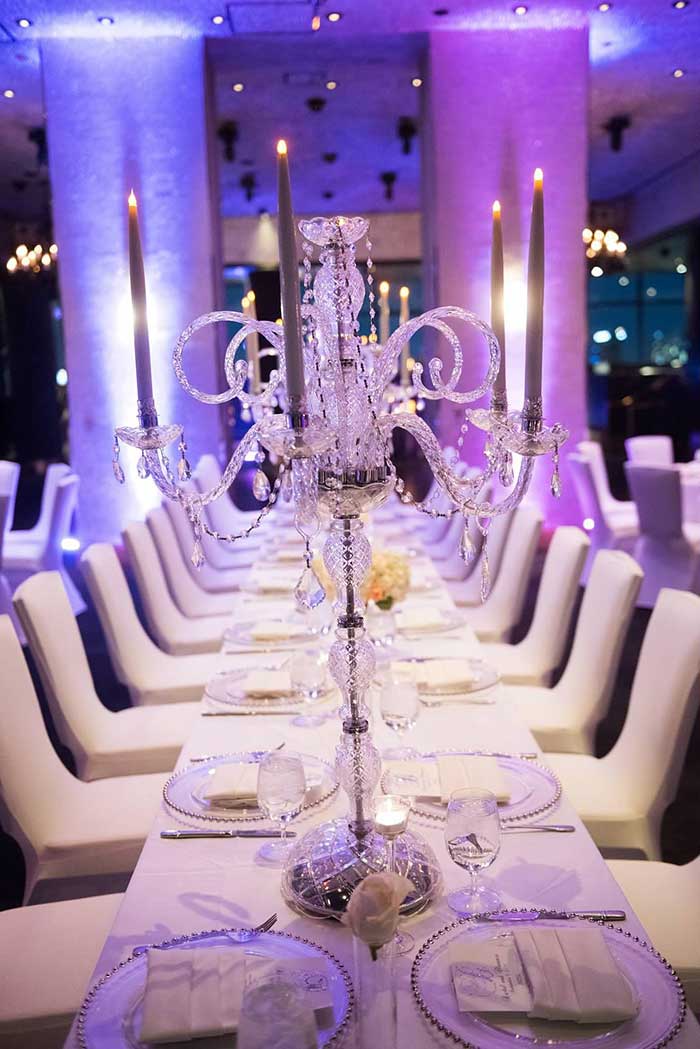 Uplighting adds instant glam to this venue in New York. Our DIY bride used 20 uplights in blue and purple.


LEARN MORE ABOUT UPLIGHTING
All About Uplighting:
Here are some links and tips about renting uplighting:
VIDEO:  Up Lighting Setup in Venue
FAQ: All About Wedding Lighting
INSTRUCTIONS: DIY Up Lighting Setup  
INSPIRATION:  DIY Ideas for Up Lighting
When to Reserve Uplighting:
How far in advance should you rent uplighting? It's up to you! Book ahead of time for one less thing to worry about, or wait until closer to your event if you prefer. We work with clients that book everywhere from 1 year to 1 day in advance. We're flexible and here to help!

Uplighting Colors
Up lights can be set to almost any shade of any color with the push of a button. Click HERE to see the color chart.

Uplighting Technical Details:
We rent professional-grade Chauvet SlimPAR56 LED uplights. Each light can shine about two stories high. The uplights measure 3" thick and 6" in diameter.



Uplighting Availability:
Need to rent uplighting for this weekend? No problem! We can ship out uplighting same-day as long as the order is placed by 4PM EST. Transit time is 1-5 business days depending on your location. Discounted express shipping options available if needed. Just call us at 1-800-465-8020.
Reviews:
We work hard to make every rental experience perfect! Check out recent reviews below, or click HERE to view our thousands of 5-star reviews.
Allie and Dan Sweet



The lighting that Rent My Wedding provided was absolutely instrumental in transforming the reception space for our wedding. I could not believe how much better it looked with the right lighting. The renting process was so easy and the customer service is wonderful. And the price is definitely right! Definitely recommend.
The Ivy Place Flowers & Events



Rent My Wedding is one of the most professional and efficient rental companies I've worked with. Their staff is always helpful. Prices are reasonable. Never am disappointed! 5 out of 5 stars -Geni
Holly H



Rent My Wedding was one of the best investments we made for our big day! The wireless uplights helped us transform a smaller reception space into what felt more like a ballroom. Our guests are still commenting on the ambiance...and I credit it all to the lighting! The setup was ridiculously easy. 5 stars!
Shipping & Returns:
FREE shipping both ways on all uplighting rentals within continental U.S. After your event, put everything back in the same box with pre-paid return label. Drop off at FedEx, or schedule a free FedEx pickup at your location.

Payment Options:
No security deposit! Just a flat rate of $19 per uplight + free shipping. Pay 25% to hold your reservation, and balance is charged 30 days prior to event. We're also happy to setup a custom payment plan for your uplighting upon request.

Cancellations:
Need to modify or cancel an order? No problem! Cancel anytime before you package ships out for a full refund to your credit card.
FAQ:

What is uplighting? Uplighting consists of small lights that you place on the floor to illuminate the walls in color. This is the most popular type of event lighting for weddings.

How much is uplighting? Rent uplighting for just $19 each plus free shipping both ways nationwide with Rent My Wedding.



How do I setup uplighting? It is super easy to setup uplighting! Just plug in the lights and set on the floor, up against the wall. You can choose almost any shade of any color with the push of a button.

Do I need a professional for uplighting? No, you don't need a professional to setup your uplighting. Our lights are designed for easy DIY setup - no experience required!



Find local uplighting: Wondering where to get uplighting? We're here to provide local uplighting options! We deliver everything directly to your door. Look no further if you're wondering "where to get uplighting near me" -- our online rental process makes uplighting easy and convenient!

Find local event rentals: If you're searching for "show me uplighting" or "show me wedding rentals" then you're in the right place! Rent My Wedding helps you rent uplighting online -- and rent uplighting for cheap! The rental cost is just $19/uplight + free shipping both ways.



How to plan a dream wedding on a budget: The number one secret to planning a dream wedding on a budget - light it up! Uplighting will instantly transform a room and look like a million dollar wedding. Our clients consistently tell us that uplighting provided the most bang for their buck.