RENT WIRELESS UPLIGHTING
Transform your venue with wireless uplighting!
Rent wireless uplighting for an easy and affordable way to create a modern wedding reception. Uplighting will wow your guests by transforming your venue and adding ambiance. Clients consistently tell us that wedding lighting and event lighting has added more "pizazz" and garnered more compliments than any other decoration at their reception. The best part is that wireless uplighting is quick and easy for anyone to setup - no experience required! Click the button on the right to rent wireless uplighting.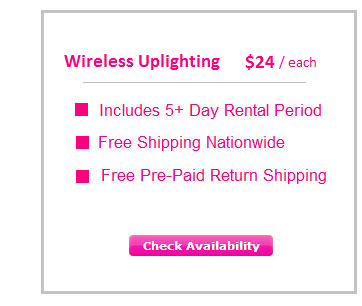 Easy Wireless Uplighting
1. Choose any color using remote.
2. Put uplight on floor against wall.
3. You're done!

Wireless uplighting setup is quick and easy. No experience required! It takes 30 seconds to set up each wireless uplight. The wireless uplights are powered by built-in batteries which will last at least 8 hours.
Free Shipping & Returns:

Free shipping both ways.

Delivery guaranteed at least  two days before event date.

After event, put rental items back in same box with pre-paid return shipping label provided.

Return package to FedEx two days after your event, or schedule a free FedEx pickup.
100% Satisfaction Guarantee

Wireless uplighting is guaranteed to arrive at least two days prior to your event date.

Wireless uplighting is guaranteed to arrive in perfect working condition.

Prices for wireless uplighting are all-inclusive. No hidden fees.
Click HERE to read more about our 100% customer satisfaction guarantee. Or Click HERE to read our 450+ reviews on WeddingWire for wireless uplighting.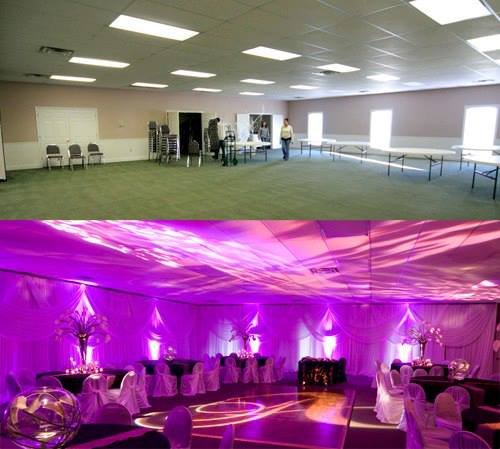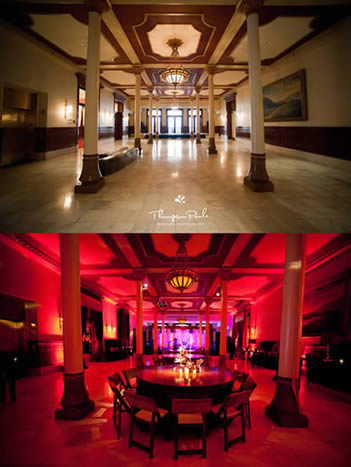 LEARN MORE ABOUT DO-IT-YOURSELF WIRELESS UPLIGHTING
Wireless Uplighting Quick Reference Links:
Wireless uplighting is easy for anyone to setup. Below are videos and quick reference guides for everything you need to know about wireless uplighting and how to set up your Rent My Wedding up lighting.
    ~ FAQ: All About Wedding Lighting
    ~ INSTRUCTIONS: DIY Up Lighting
    ~ COLOR CHART: Up Lighting Colors
    ~INSPIRATION :  DIY Ideas for Up Lighting
Shipping:
Enjoy FREE shipping both ways on all wireless uplighting rentals within continental U.S. Wireless uplighting rental delivery is guaranteed at least  two days before your event date. We guarantee uplighting will arrive on-time, with all uplights in perfect condition .
Returns:
Return wireless uplighting rentals to any FedEx location two days after event date. Use same box and pre-paid FedEx label provided for return. No late fees as long as you call to make arrangements if you are unable to return your items on time.
Wireless Uplighting Rental Policies:
Wireless uplighting rental policies include flexble payment options - pay 25% now and balance later. No hidden costs or fine print - all uplighting rental prices include everything you need. No security deposit. If you are late on a return, no late fees as you call to let us know and make arrangements for a new return date on your uplighting rent al.
Cancellations:
Cancel anytime before you package ships out for a full refund. Full refund will be issued within 1 business day of cancellatio n.
Battery Life:
The wireless uplights will last for at least 8 hours. After 8 hours, the lights will start to fade very gradually. The lights will be powered off completely after 8.5 - 10 hours, depending on the particular color used. For setup, you can position all of the lights around the room, select colors, and then power the lights off using the remote. When the event is ready to start, use the remote to power the lights back on. They will automatically default to the last color that was programmed.
Charging Uplight Batteries:
We fully charge your uplights prior to shipping whenever possible, and also provide charging cables so that you can easily charge the uplights yourself if needed. When you receive your package, turn on the uplights and check the battery indicator on the back. If the indicator shows that the lights are not fully charged, simply connect all the lights together using the charging cables provided, and then plug one of the lights into a regular outlet. This will charge all of the lights at the same time. The battery indicator light will turn green when the uplights are fully charged.
Rent Wireless Uplights:  $24/each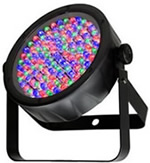 Rent wireless uplights for $24 each . Rental price includes everything you need - wireless uplight, remote, power cord for charging, and free shipping both ways. ( The battery is also included - it is part of the light fixture ).
Colors for Wireless Uplighting: 
Wireless uplighting can be set to almost any shade of any color with the push of a button. Colors can be programmed using the remote control provided, or using the menu buttons on each individual light. The remote can program multiple lights at the same time - just point the remote at all lights that you wish to program.
You can program the colors on your up lights before your event to save time. The wireless uplights will keep the color in memory, so that on the day of the event all you need to do is turn them on. Additionally, we offer a preset color service for $2/uplight, which means that we program the colors on the LED uplights for you before shipping. (We always tell our clients that the preset color service is not necessary since the uplights are so easy to use, but for those interested, this service would save you the step of setting the color on the wireless uplights. )
Special Features for Wireless Uplighting: 
Wireless uplights can be set to a single color for the entire event, or try special features, including:

Color Change Mode (You control the speed and type of transitions)

Sound Activated Mode (Colors change to the beat of the music)

Strobe Mode (Rapid pulsing color changing)
Wireless Uplighting Specifications: 
Wireless uplighting is the latest technology in wedding lighting. We rent professional-grade Chauvet EZPAR56 LED wireless uplights. Unlike other types of uplighting, LED uplights are energy efficient and do not get hot or blow fuses. The wireless uplights are 5" thick and 6" in diameter. Most event lighting professionals use these same LED uplights.
When To Order Wireless Uplighting:
We recommend reserving your wireless uplighting 30 - 60 days prior to your wedding or event to ensure availability. However, we can also accomodate last minute orders as well - just give us a call and we're happy to help! We will automatically schedule your wireless uplighting package for delivery at least two days prior to your event date.
NO OUTLETS? RENT WIRELESS UPLIGHTING!

Rent wireless uplighting for $24/each. This is a great option for outdoor uplighting, areas without outlets, or creating table glow lighting effects. The wireless uplights are powered by rechargeable batteries that last for at least 8 hours. A remote control is provided to set colors or program special lighting effects. Rent wireless uplighting for $24/uplight + FREE shipping nationwide.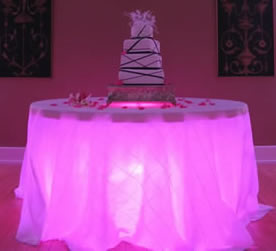 HOW MANY UP LIGHTS TO USE?
The number of up lights to use depends on your vision for the reception and size of venue.  We have provided up lights for hundreds of weddings, and couples have used as few as 2 up lights and as many as 80 up lights.  Here are guidelines:
| | | | |
| --- | --- | --- | --- |
| Seating Capacity | Accent Uplighting | Moderate Coverage | Maximum Coverage |
| 50 people | 4 - 8 up lights | 11 up lights | 18 up lights |
| 100 - 130 people | 4 - 8 up lights | 16 up lights | 30 up lights |
| 130 - 200 people | 4 - 8 up lights | 20 up lights | 35 up lights |
| 200 - 250 people | 4 - 8 up lights | 24 up lights | 42 up lights |
| 250 - 350 people | 4 - 8 up lights | 26 up lights | 48 up lights |
| 350+ people | 4 - 8 up lights | 30+ up lights | 50+ up lights |
ACCENT UPLIGHTING: This look will add interest with uplighting without breaking the bank.  Choose certain areas of your wedding venue to highlight with uplighting, such as your head table (2 - 6 up lights), cake table (1 - 2 up lights), wedding guest book table (1 - 2 up lights), or dance floor (2 - 4 up lights).
MODERATE COVERAGE: This is the option for those who want to set the mood and create an elegant ambiance with uplighting.  Adds a nice overall effect to your venue with moderate coverage. Space lights 10 feet apart around perimeter of room.
MAXIMUM COVERAGE: For the "wow" effect, choose maximum coverage.  Event lighting professionals refer to this as a "color wash."  Basically, every inch of wall will be covered in colorful uplighting.  This is the icing on the cake for a beautiful venue.  Or, use a color wash to transform a drab venue into a modern, chic space. Space lights 5 feet apart around perimeter of room.
Maximum Coverage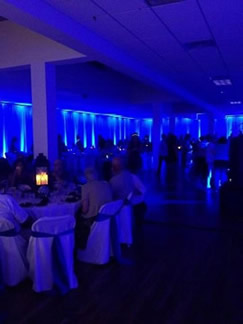 Moderate Coverage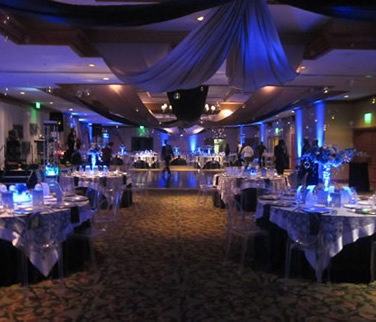 Accent Uplighting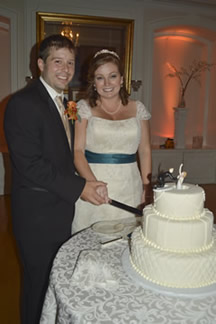 UP LIGHT EXAMPLE PHOTOS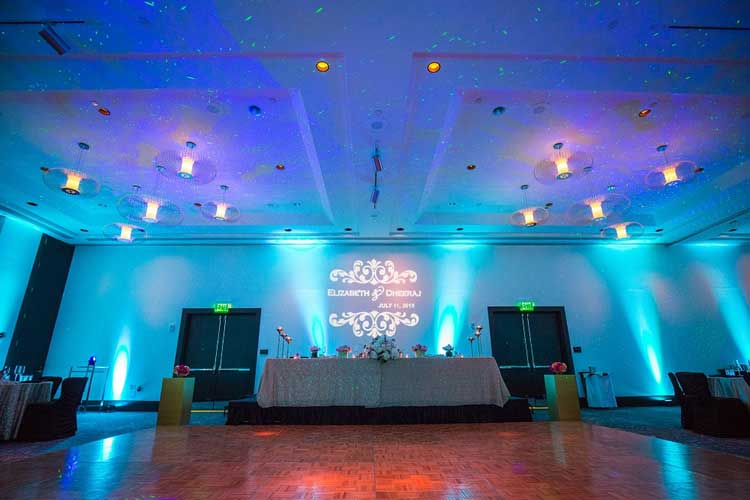 Teal wireless uplighting for wedding reception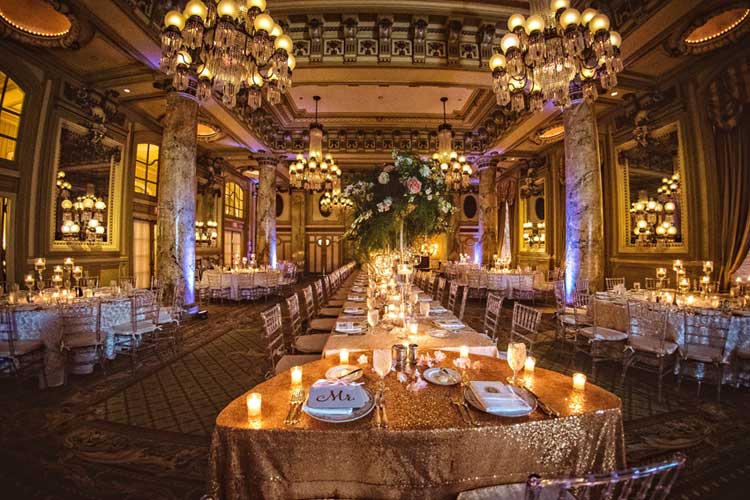 Uplighting on pillars for accent lighting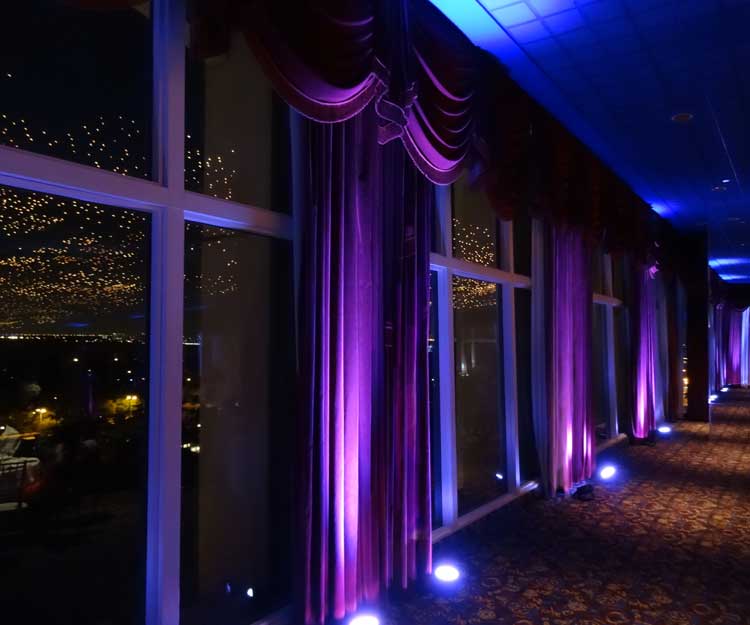 Uplighting on curtains for accent lighting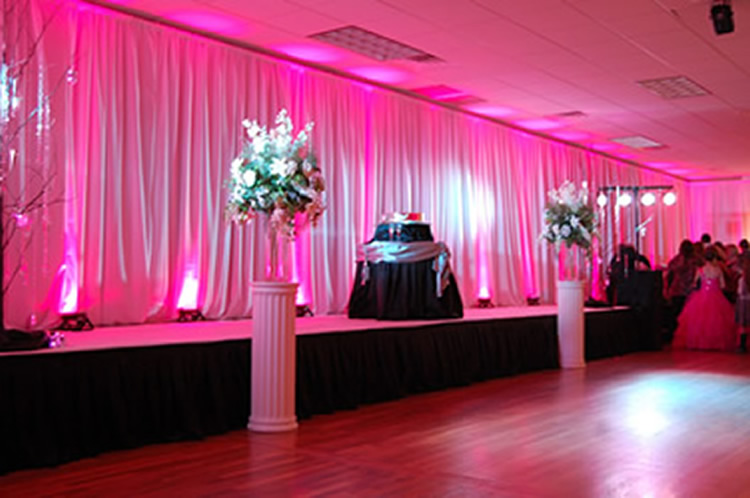 Pink uplighting on wedding backdrop

Colorful uplighting for wedding ceremony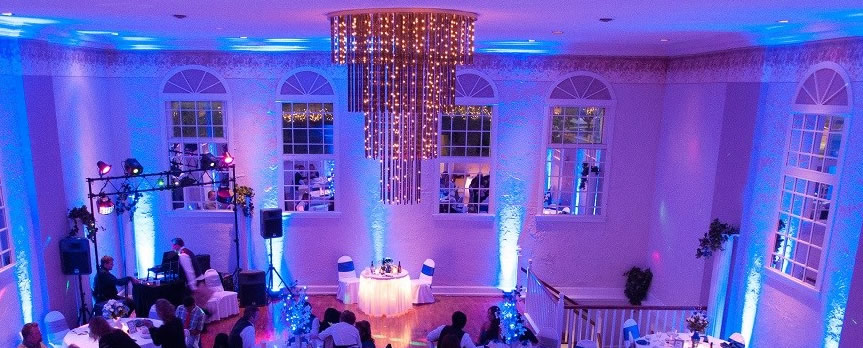 Uplighting with tall ceilings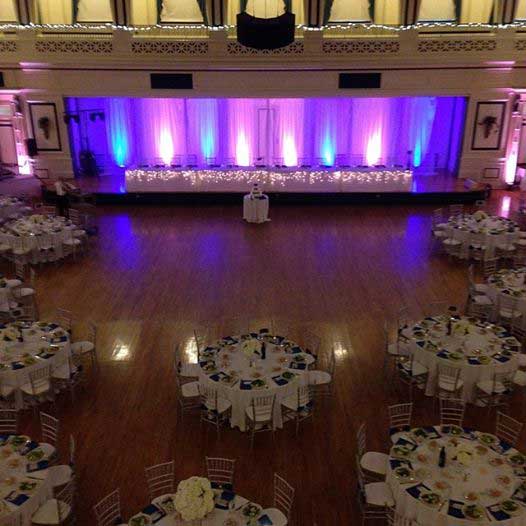 Uplighting for stage and head table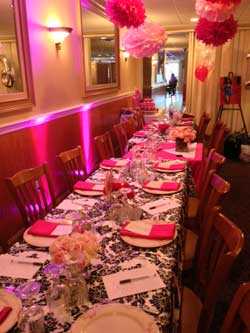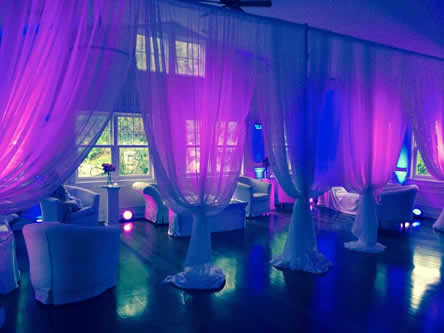 Colorful uplighting for dinner parties and lounges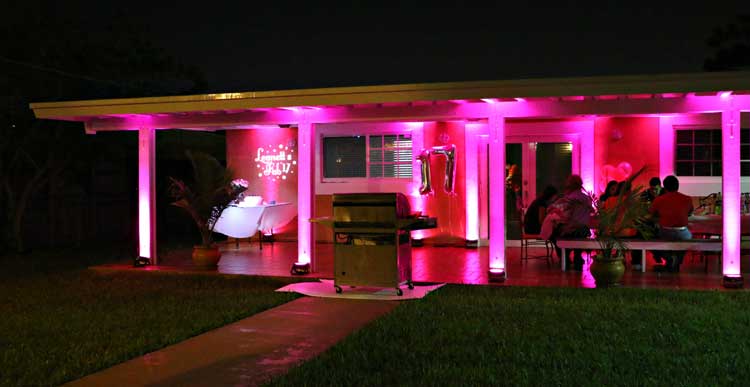 Ourdoor uplighting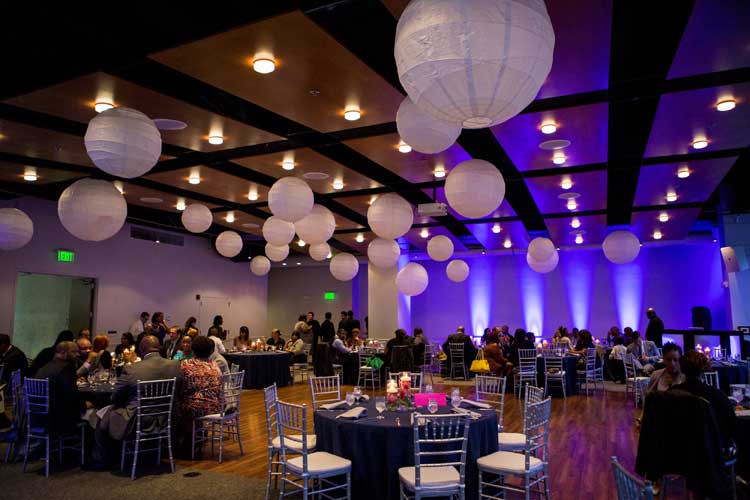 Purple uplighting on white walls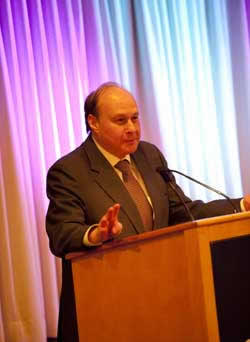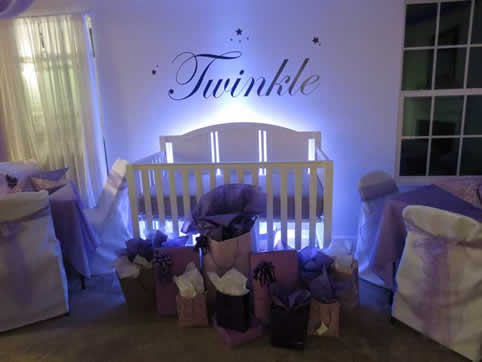 Uplighting for corporate events and baby showers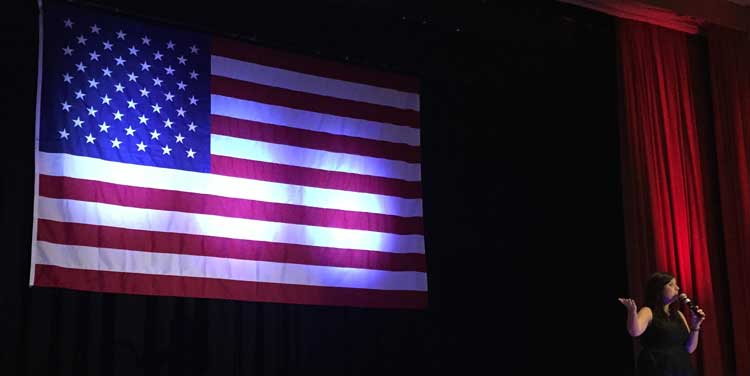 Red uplighting on stage curtains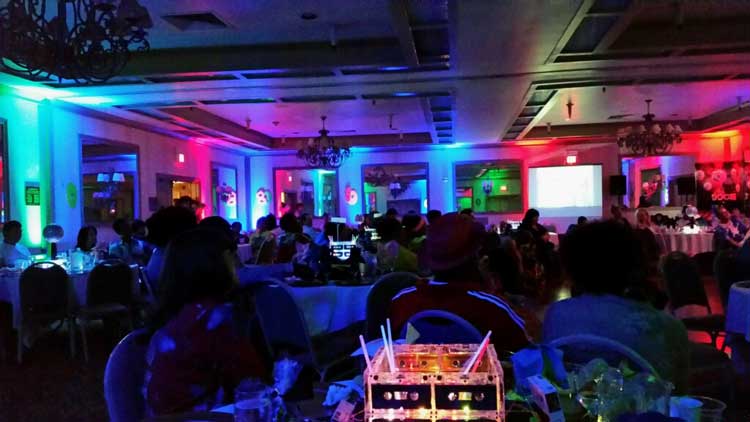 Colorful uplighting for a party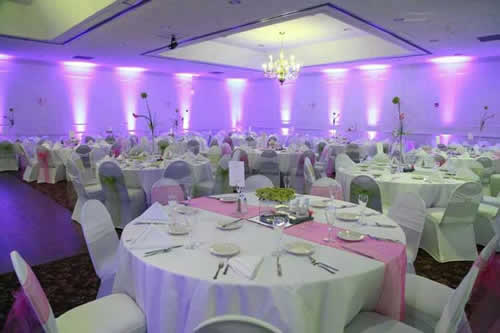 Pink uplighting in a ballroom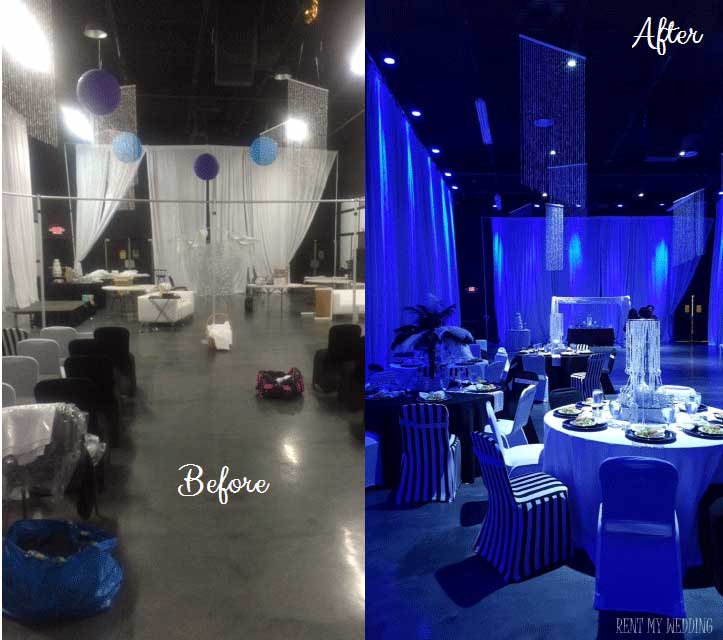 Before and After Uplighting: Wedding Reception Transformation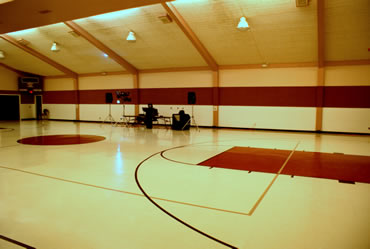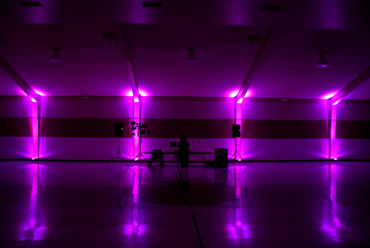 Before and After Uplighting: High School Gym Transformed for Party

Before and After Uplighting for Daytime Event with Windows